Summer 2024 Registration is Open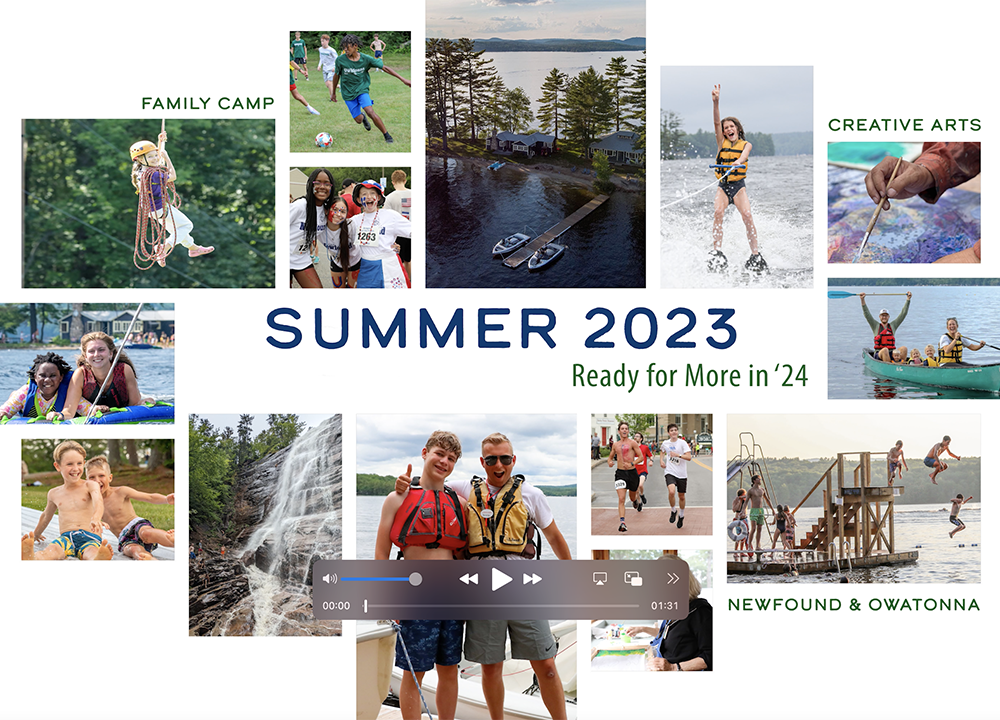 There is no place like Camp! Every day at Camp provides opportunities to celebrate small successes, from learning how to go off the rope swing to forging old and new friendships to creating unforgettable adventures on trips. The growth that occurs as campers collect new experiences and memories is summed up in one phrase: Camp makes a difference.
It's hard to believe that summer 2023 has come to a close. Use this link to see a short video of some highlights! We have already begun planning for another great summer in 2024, and we hope you will be a part of it!
Registration is now open. Sign-up for any of our programs by clicking on the registration button on the top right of our homepage. Not only does registering early secure your spot but it also helps us plan for an unforgettable summer from hiring an awesome group of counselors and staff to planning for our trips and programs. See below for our 2024 programs on the shores of Long Lake!
2024 PROGRAMS
NEWFOUND & OWATONNA
Chart a course for a summer of fun, friendship, and adventure on the shores of Long Lake. Experience the summer of a lifetime at Camp Newfound for girls ages 6–16 or Camp Owatonna for boys ages 6–16. For Summer 2024 dates, see newfound-owatonna.com. To learn more about our programs, watch our videos or email Newfound Director, Mary Rankin, or Owatonna Director, Reid Charlston.
FAMILY CAMP
Experience Camp with your whole family! Enjoy all the activities, trips, and fun of Camp at any age. First-time families get 50% off of Week 2 tuition. For more information and to register online go to www.newfound-owatonna/family-camp
CREATIVE ARTS
Just for adults! Come spend 8 days at Camp adventuring in the arts! For more information and to register online go to www.newfound-owatonna/creative-arts. 2024 classes will be posted in January 2024. You won't be able to select classes now but registering will save your spot.
OTHER INFORMATION
FINANCIAL ASSISTANCE
We want everyone to be able to attend Camp! Financial Assistance is available for all our programs. Use this link to learn more.
FOLLOW OUR SOCIAL CHANNELS
Instagram: @campsnewfoundowatonna
Facebook: @newfoundowatonna
DONATE TO CAMP
Every donation, no matter the size, has an impact. Together, we will continue to bring all the things you love about Newfound and Owatonna to a new generation of campers. Use the link on the top right of home page to donate.