Welcome Home to Camp
The Owatonna/Ropioa
100th Anniversary Celebration
VIDEO HIGHLIGHTS
See some highlights from the reunion - Watch Video Here >
LOOK WHO CAME!
Eli Abbott

Abby Jealous Abouchar
Andrew Abouchar
Sally Abouchar

Palmer Aguirre
Daniel Anastos

Forest Andresen

Fred P. Andresen

Grace Barton

Izzi Barton

Samuel Batton

Lily Bermel

Eric Beyer

Forrest Bless

Bruce Bollinger

Jamie Bollinger
Bonnie Bower
Al Boyd

Buz Brewster

Cedar Brumm

Bumatay Family
Dana Byquist

Kelly Byquist

Marina Byquist Bonsi
Burt Cady

John Caldwell
Bruce Cameron
Ian Carlson
Dan Carter

Glenn Case

Nancy Humphrey Case
Tucker Charette
Reid Charlston
Bryan Clark
Corey Collins

Jeff Collins

Josh Collins

Ross Collins

Amy Connor

Keith Connor

Scott Coolidge
Terry Coolidge
Richard Coomber
Oliver Cooper

Eliz Crowley

Connor D'Amico
Adrian Dahlin

Audrey Snyder Davis

Kristiana Helmick Ebert
Libbie Edwards
Jeff Ellis
Rob Estes

Bob Feldmann

Brandon Frank

Nate Frederick
Sam Friborg

Tom & Adria Fuller

Mitchell Gill

Pierson Gill

Julia Golder

Peter Golder
Margi Neale Griffith
Peter Griswold

Kim Grunden

Zachary Hanby

Hanson Family

Ryan Hart

Andy Hatch

Chris Hatch
Doug Hatch
Gary Heard
Brooks Helmick
Katharina Helmick

Chuck "Hink" Herrick

Bill Hewitt
Doug Hoeschle
Gabe Hoffman-Johnson

Anya Hooper

Toby Howell

Brad Ickes

Abby Fuller Innes

Bart Jealous

Clark Johnson

Glenn Johnson
Seth Johnson
Alex Jones

Elizabeth Jones

Jay Jostyn
Lisa Wormwood Joy
Levi Kline
Kline Family

David Kurtz

Zeya Kyaw
Darren LePage

Dale Lewis

Stephen Lewis

Lizzie Loomis

Evan MacDonald
Colby Mager

Jane Martin

Elizabeth Smedley Massey

Shawna Newland McCardle

Jen Barth McPhee

Susan McPherraan
Hunter Mehring

Dave Meyer
Burke Miller

Lara Miller

Scott Miller
Will Miller

Scott Moeller
Daniel Newberry

Tucker Newberry
Brianna Olsen
Erik Olsen
Karina Olsen
Meridee Olsen

Andy Parker

Andrew Parsons
Michele T. Parsons

Dave Pelton

Varick Pelton

Niklas Peschke

Chris Read
Nate Richards
Noel Richards

Jeff Robertson

Andrew Rodgers
Lou Sampson

Sarah Sampson

Wells Sampson
Jared Sass

Becky Schlueter
Jack Schlueter

Skip Schneider

Don Seymour
Jeni Martin Seymour

Byron Shelton

Claire Smith
Pemy MacKenzie Smith

Will Smith
Zoë Smith

Susan Booth Mack Snipes

Aiden Snorek-Yates

Julie Snorek

Amy Dunbar Sparkman

Barrett Sparkman
Noah Sparkman
Truett Sparkman
Evan Sperr

Tim Steckler

Boone Steele
Jeff Steele
Olivia Steele
Ben Summerlin

Kenny Sydness

Annie Thayer

Christian Thomas

Hannah McCauley Thomas

John Tibbetts

Parker Tibbetts
James Vance

Weezie Vance
Cody Veidelis
Denny Veidelis

Michael Vernon

Carrie Waggoner

Hale Walcoff

Charlie Warren

Nate Waters

Jennie Webster

Peter & Jane Whitchurch

Annie Wilder

Duncan Wilder
Sandy Wilder

Brooks Williams
Anne Heinrich Wold

Brian Wold

Larry Wold

Lindsay Wold

Heather Worley

Liz Fuller-Wright

Charlie Youngblood
Luke Youngblood
Mark Youngblood
Susan Youngblood
Ty Youngblood
COME HOME TO CAMP
What a celebration we had for Owatonna/Ropioa's 100th Anniversary! Alumni and friends of Camp joined us for an incredible weekend reconnecting with old friends and making new memories. Stay tuned, we will post a recap and photos soon!
Friday, September 3 - Monday, September 6, 2021
Camp will be open on Friday, September 3 at 3 p.m. - move into cabins, enjoy activities, and reacquaint yourself with Camp.
Official reunion activities will begin with a 6 p.m. dinner.
The final reunion meal will be lunch Monday, September 6.
Come for 1, 2, or all 3 nights.
WHERE:
At Camp Owatonna (and Camp Newfound)
WHO CAN COME:
Owatonna/Ropioa alumni and families, trustees past and present. Newfound, Family Camp, and Creative Arts alumni, and all friends of Camp are also welcome to join.
WHAT TO DO:
Connect with camp friends and participate in all the activities you loved when you were a camper: team sports, waterskiing, canoeing, kayaking, sailing, swimming, ropes course, climbing wall, zip line, arts & crafts, nature walks, tennis, archery, competition between the teams, Cherry Island swim, running to the Flag Pole, diving off the Big Float, crossing the sandbar to Hairbrush, day hikes, singing, making s' mores ... and more!
HOW MUCH:
Since this is Owatonna/Ropioa's 100th Anniversary Reunion, the rate is $100 per person for the weekend. Financial assistance is available through the Campership Fund. Click here to go to their website. If you need additional financial support for transportation, contact seth@newfound-owatonna.com.
LODGING:
Camp housing is currently very limited. Please contact info@newfound-owatonna.com about housing options. Please remember to bring your own bedding which includes a pillow. The weather in Maine in September is beautiful but the nights can be cool.

At Owatonna

Group living in cabins – single beds
We will do our best to accommodate cabin requests
Bring your own bedding, pillow, towels, sleeping bag, etc.
Bathrooms and showers available within a short walk
Or, at local bed and breakfast establishments or nearby hotels
If you need additional assistance, email info@newfound-owatonna.com.
MEALS:
Served at Owatonna's newly renovated lodge and kitchen
TRANSPORTATION:
Please make your own transportation arrangements to and from Camp. If you need additional assistance, email info@newfound-owatonna.com.
CHILDCARE:
We are offering childcare for children five and under. If you haven't already been in touch regarding childcare, please contact terry@newfound-owatonna.com so that we can have an accurate number for staffing purposes.
PARKING:
We are requesting that everyone park their cars at one of the camp lots after unloading. Parking areas will be available at the Newfound soccer fields, the lot by the Owatonna basketball courts, and the lot above the business office. In order to minimize traffic, we will provide shuttles around camp.
SCHEDULE OF ACTIVITIES:
There will be camp activities from the early morning hours through special evening activities. The daily schedule will be posted on the reunion section of the website and around camp. To help the weekend run smoothly and to make sure as many as possible have the opportunity to participate in a favorite activity, we will have sign up sheets at the Owatonna Lodge for certain activities like water-skiing as well as early morning activities – Cherry Swim, early morning ski, Hawk Mountain hike.

Competition between the Blues, Golds, Greens, and Reds
Off-camp day hikes
Morning Meeting, Rest Hour, and other special activities will also be held each day.
Download the Reunion Schedule.

Questions about registration send them to info@newfound-owatonna.com.
If you are interested in working at the Reunion, have a suggestion for an activity, or are interested in organizing an activity for the reunion, contact Terry Coolidge, Reunion Coordinator at terry@newfound-owatonna.com.
We are planning on honoring our military members, if you have served or are currently serving in the military, send an email to seth@newfound-owatonna.com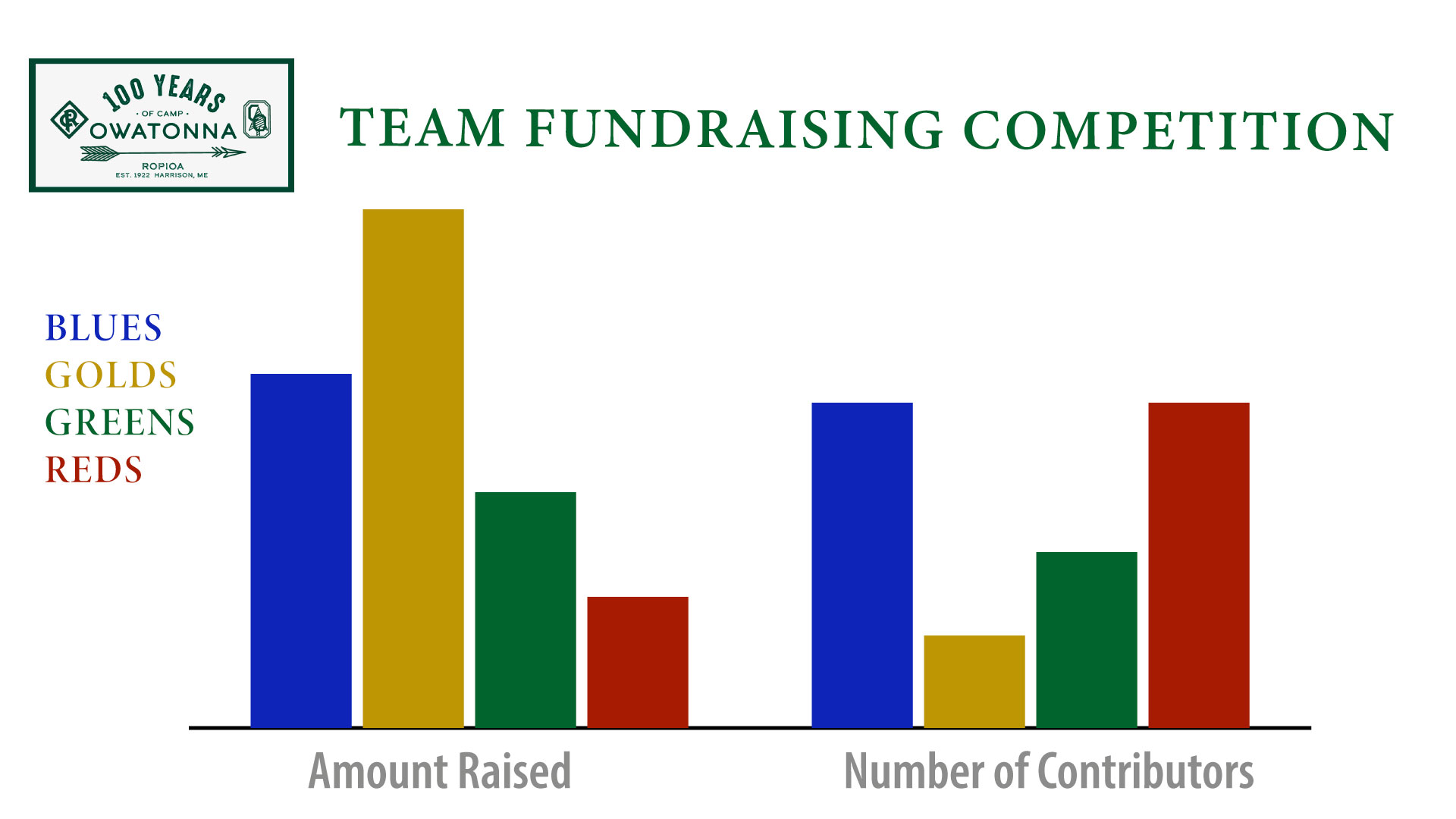 Status as of 09/16/21 – The team fundraising competition was exciting and generated much enthusiasm among the teams and Owatonna alumni. At Owatonna/Ropia's 100th anniversary celebration, winners were announced in both the total amount raised and total numbers of donors. As are so many team competitions at Owatonna during the summers, the race was a tight one to the very end. The final places were as follows:

Amount Raised:
1. Golds
2. Blues
3. Greens
4. Reds

Total Donors:
1. Blues/Reds (tie)
3. Greens
4. Golds

We are very grateful for everybody's participation and please note that the fiscal year doesn't end until September 30, so there is still time to give (https://www.newfound-owatonna.com/giving)!
Read reunion coordinator Terry Coolidge's article, Come Home to Camp

Read the article What our Founders Established by Seth "Chic" Johnson
Check out the Owatonna/ROPIOA history written by the Harrison Historical Society.
For more Owatonna History, check out the website below maintained by alum Scott Coolidge
http://www.campowatonna.com/index.htm