Don't miss our Virtual Camp Show on Jan. 30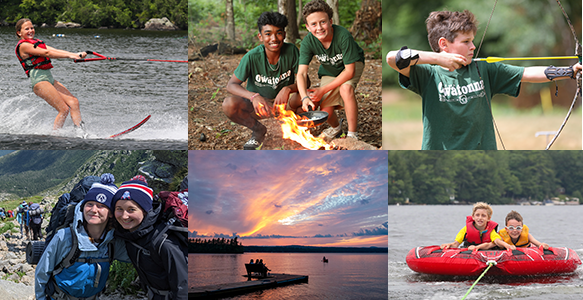 Join us for our virtual camp show on January 30 at 6 pm (EST). It's an opportunity to hear what Newfound & Owatonna have planned for summer 2022 from the comfort of your living room. Bring your questions and ideas for Newfound Director Mary Rankin and Owatonna Director Reid Charlston! They love to talk about camp and all the benefits of a summer in Maine. Please forward this information if you have friends or family interested in learning more about camp. We would love to meet them. And if you are a new family attending our Zoom show, fill out our pizza form so that you can have a pizza delivered before the show! Use this link for more information about the evening.
WHEN: Sunday, January 30, 6:00pm EST (5:00pm CT)
If you are unable to attend, please reach out to info@newfound-owatonna.com. We can set up a time for you to speak with any of our camp directors.
WHERE: On Zoom! Contact info@newfound-owatonna.com for the link.
WHO: Anyone who is interested in learning more about Newfound and Owatonna, including summer camp, Family Camp, and Creative Arts.
It's not a camp show without pizza! We wish we could share a slice with you in person, but since we can't, we want to order pizza for any new family joining us for the show. Click on this link to put in your pizza order and have it delivered to your house in time for the show.
CAMPERSHIP AID – We want all children to be able to attend Camp! There are a number of options for campership aid and we can make it work! Check out our financial assistance page for more information.
SIGN UP FOR CAMP TODAY! Click here to see dates and rates for 2022. If you intend to have your child at camp this summer, we suggest that you sign up soon. This will help for our planning purposes and will ensure you have a spot reserved.
Join us for a one-of-a-kind summer adventure! Sign up today!
We also have many in-person shows scheduled for the spring. Why come to a camp show? Besides the fact that they are fun, there is the opportunity to meet new people, connect with camp friends, and Mary and Reid will be there to answer any questions and speak about what a summer adventure on the shores of Long Lake looks like. Check the schedule to see if we are coming to your area.
January 30 - Zoom Camp Show
February 6 - Manhattan Beach, CA
February 20 – St. Louis, MO
February 26 – St. Petersburg, FL
March 5 – Towson, MD
March 6 - Washington, DC
March 13 - Atlanta, GA
We can't wait to see you!