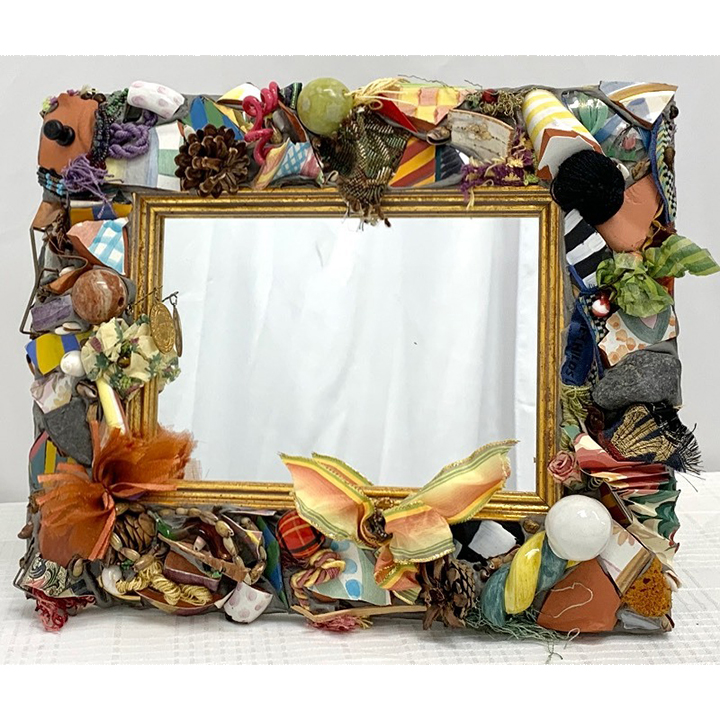 Using found objects: natural materials, pottery shards, shells, and other sundry from the local environs, students in this class will each create their own one of a kind mosaic with objects brought from home. Imagine – an old picture frame, the milk jug in your garage, a forsaken chair from your attic – or maybe that unused bench in your basement – given a whole new life through your own vibrant, mosaic invention.

Students will also work together to create a collaborative mosaic project in some special place within the campus. Victoria will provide the technical guidance for seeking, finding, and working together on the crew-created mosaic and work one on one with each student on their own individual mosaic as well – anytime of the day or night! Victoria's refreshingly exuberant manner and means of making, lifts up the natural individuality of others while lacing the course with well fortifying skills

Says Victoria: "It will be a jubilant adventure, I'm pretty sure…as always it is for me!"
Through these couple of examples: https://youtu.be/EthUrZ8YvXA https:/ /youtu.be/uwl29B3SNFI drawn from Victoria's YouTube Channel, one may glint the way of Victoria's course, as she embarks with you upon this week of creative exploration and implementation.

No prior experience necessary. There will be a materials fee and a list of things to bring. This is a full day class.

Meet your Instructor
Victoria MacKenzie-Childs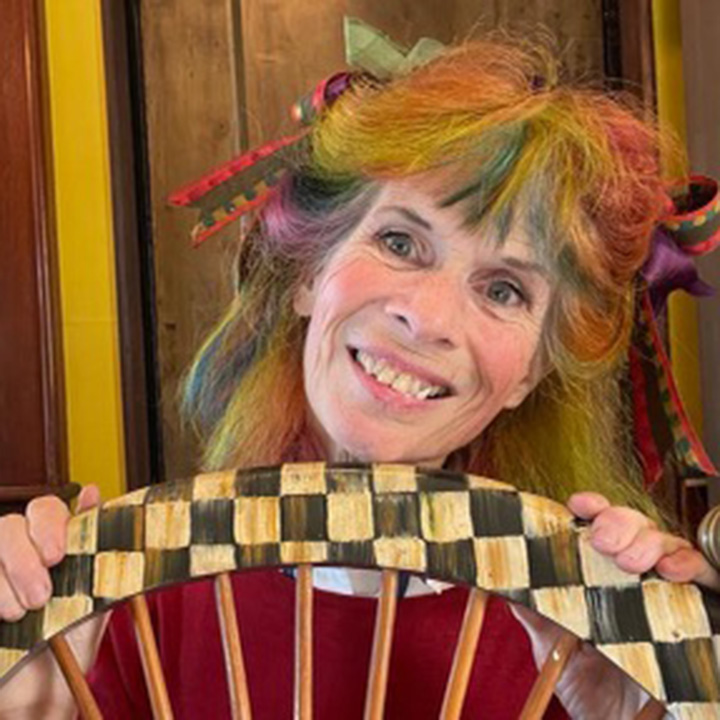 Victoria & her husband Richard, with PhD degrees in ceramic sculpture, founded MacKenzie-Childs, Ltd., an innovative decorative arts firm, in 1983. The operation fell into other ownership after 20 years of joyous discovery.
The couple currently are right-ruggedly working in the historic preservation pursuit of transforming the last remaining Ellis Island ferryboat, Yankee Ferry1907, for America's posterity.
The Ferry, alongside multitudinous other projects the two have created, embodies the jubilant creativity they are known for.
All may enjoy Victoria & Richard MacKenzie-Childs' ongoing works in decor and more, Victoria & Richard Emprise and through a surprisingly personal YouTube Channel, aptly named: Victoria MacKenzie-Childs.